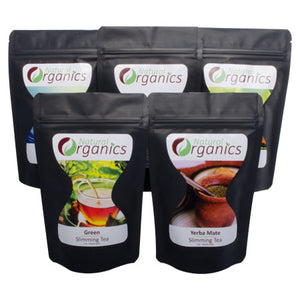 Weight Loss Cure Tea Package
Regular price $199.99 $99.99 Sale
Weight Loss Cure Tea Package
For Use During Phases 1-3
During Phase 2 you will take your oral alternative supplement and drink all the teas required in the protocol. This is absolutely crucial to the weight loss protocol. Weigh yourself every day at the same time. Keep a record of your weight loss success. You should also take measurements of your thighs, calves, hips, waist, chest, back, arms and other problem areas. When you complete Phase 2 take another set of measurements. The weight loss and total reshaping will motivate you to continue with Phases 3 and 4.
Customers have reported that drinking the teas significantly increases weight loss.
This package includes a 6-8 week supply of all the teas that you are required to drink during Phases 1-3 of the Weight Loss Cure Protocol:
Organic Yerba Mate Tea
Organic Chamomile Tea
Organic Green Tea
Wu-Long Tea
Coral Calcium Sachets have been discontinued.
Instructions: Use 1 Tbsp tea leaves per quart of water.