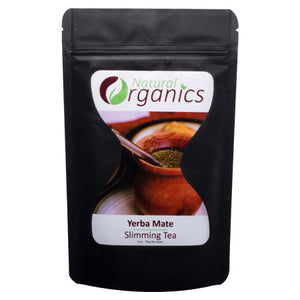 Yerba Mate Slimming Tea
Regular price $39.99 $24.99 Sale
Yerba Mate, also known as just Mate, is a traditional drink in many Spanish-speaking countries. Drinking Mate with friends from a hollow goard through a metal straw is a common social practice in many South American countries.
Our Yerba Mate is organically grown, fair trade certified by IMO, and produces a light green beverage, with a refreshingly bold flavor. Our Yerba mate is untreated and contains no filler or flavoring agents, just pure organic Yerba Mate leaves. This is not easy to come by. You deserve the best. Don't settle for less!
Yerba Mate contains polyphenols, which are associated with many health benefits:
Strengthens the immune system
Relieves allergies
Reduces the risk of diabetes
Increases the supply of nutrients and oxygen to the heart
Increases mental energy & focus
Improves mood
Promotes deeper sleep
Yerba Mate's polyphenol compounds also provide the perfect combination of weight loss benefits, making it truly effective.
Helps burn calories
Acts as an appetite suppressant
Increases the feeling of fullness & satisfaction
Assists in fat metabolism
It also contains minerals such as potassium, magnesium and manganese.
Yerba Mate's great taste and countless health & weight loss benefits make it a pillar in the Weight Loss Cure & hcg Diet programs.
Drink 1 cup of tea per day.
Use 1 Tbsp tea leaves per quart of water.
Place 1 Tbsp tea leaves in infuser and put in bottom of pitcher. Heat 1 quart of fresh, cold water to a pre-boil or 180-190 degrees. Pour hot water into pitcher and allow steeping for 4-6 minutes or to desired strength. Remove infuser and enjoy.