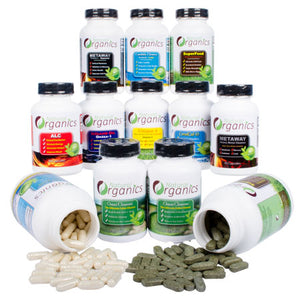 Weight Loss Cure Supplement Package
Regular price $529.99 $299.99 Sale
Supplement Package
This package includes all the supplements you need to complete Phases 1-4 of the Weight Loss Cure diet (PLUS Two Phase 1 Cleanses).
Best Seller!
Package Savings: $230
SUPPLEMENT PACKAGE INCLUDES:
Omni Cleanse - Colon Cleanse (one-time cleanse for Phase 1)
3Lac - Candida

SuperFood - Whole Food Supplement
BioZyme - Probiotic Enzyme Complex
Unique 4 - Vitamin E
Iceland Oil - Omega 3
Acetyl-L Carnitine
CoralCal-D Coral Calcium
Purchased separately, these items would sell for $529.99. That's a Package Savings of $230!