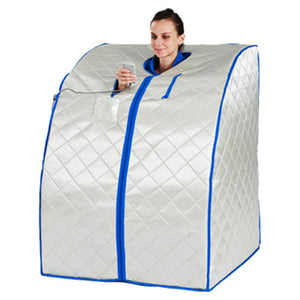 Portable FAR Infrared (FIR) Sauna
Regular price $479.99 $299.99 Sale
Portable FAR Infrared (FIR) Sauna
FIR? FAR? Infrared? What's the difference
All these terms can be very confusing. Customers ask, "Which is better FIR or FAR?" Good news - They all mean the same thing. FIR stands for "Far Infra Red". So it's FAR Infrared, or FIR for short.
In the end, just make sure you are getting an INFRARED sauna. Many companies are introducing "saunas" that look very similar to this unit, but they are heated by steam only. They are basically portable steam baths. But to get the powerful detoxifying sauna benefits, it MUST be an INFRARED SAUNA! Steam heat maxes out at about 100 degrees. But a sauna operates at much higher temperatures in the high 100s up to 200 degrees.
Sweat is one of the most effective methods for eliminating toxins. Everyone today is exposed to toxic chemicals and heavy metals. Although it is a major elimination organ, most people's skin is very inactive. Repeated use of a sauna can help slowly restore skin elimination.
Viruses, toxin-burdened cells and tumors are weaker than normal cells and tolerate heat poorly. The heating of the tissues which takes place in a sauna helps the body heal from infections more quickly.
In the same way that our bodies naturally develop fever when we are ill in order to enhance metabolism and help destroy viruses, sauna heat can help fight infections and even cancer.
Saunas improve blood circulation and help oxygenate the tissues. They open the nasal passages and help drain the sinuses. Through the use of a sauna, one can remove toxic chemicals and metals from the body faster than with any other method.
Sauna Health Benefits Include:
Detoxifies the body
Improves circulation
Oxygenates the blood
Strengthen the immune system
Increases metabolic weight, helping one to lose weight
Relieves stress
Improves sleep patterns
Cleanses & moisturizes the skin
Rejuvenates overall health
Finally an affordable sauna! Now you can enjoy the amazing healing sauna benefits regardless of your financial and/or space limitations. The same powerful, infrared features that exist in the larger models are now incorporated into this new portable model.
Portable Sauna Features:
Far Infrared Ray Heat
Electronic Timer Control
Automatic Shut Off
2 Minute Assembly Time
Folds Up Into Convenient Carrying Case
5 Minute Pre-Heat Time
Folding Chair
Zippers Down the Front, At Neck & At Arms
Assembled Dimensions: 39" H x 28" W x 32" D
22 Lbs
9' Power Cord
Color: White & Blue