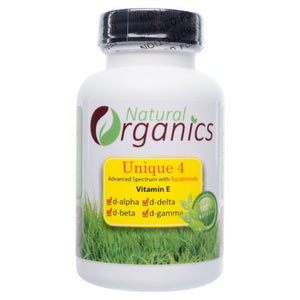 Unique 4 - Vitamin E
Regular price $59.99 $39.99 Sale
Unique 4 - Vitamin E
This is the highest quality all-natural, full-spectrum Vitamin E available on the market today!
Are you taking the right Vitamin E for your heart?
Most people don't know this, but there are two forms of Vitamin E: tocopherols and tocotrienols. While they're both antioxidants, the differences between them could easily fill a book.
99.9% of Vitamin E products on the market only contain tocopherols. But it's the tocotrienols that have the powerful heart benefits. They help reduce cholesterol and balance triglyceride and blood pressure levels. In fact, tocotrienols have been shown to be 50 TIMES more potent than tocopherols as antioxidants.
A host of studies have shown that when you combine tocopherols with tocotrienols, the extra antioxidants boost can reduce the risk of cardiovascular diseases and even some cancers. Further evidence suggests that Vitamin E provides significant immune support, which promotes systemic healing.
Vitamin E is one of the most important vitamins for maintaining overall health. Unfortunately almost every person is deficient in this vital nutrient. Due to the poor soil and food conditions, it is almost impossible to get the needed Vitamin E from your daily food intake.
Therefore, it is essential that you take a daily full-spectrum, whole food Vitamin E supplement.
The amazing thing about this tocopherol & tocotrienol combination is the range of conditions it improves, from mental clarity to heart health, and so much more:
Fatigue, Depression, Memory Loss, Mood Swings & Mental Disorders
Male Erectile Dysfunction
Eyesight
Asthma
Allergies
Blood Clots, Varicose Veins, Circulation Problems
As if that wasn't enough, not only is Vitamin E great for your insides, but it does wonders for your skin as well.
Almost every anti-aging product on the market contains Vitamin E.
Our full-spectrum Vitamin E protects your skin cells from ultra violet light, pollution, drugs, and other elements that produce cell damaging free radicals. Free radicals are one of the major culprits in aging. Vitamin E's antioxidant properties help protect your skin against these damaging free radicals, which in turn helps prevent and reduce age spots, fine lines, wrinkles, stretch marks and even helps prevents skin cancer.
And the great news is that you can use our New & Improved Vitamin E with Tocotrienols topically too. Just cut open the capsules over a small bowl or container and rub the oil right into your skin.
Our Formula Features:
All-Natural, Unesterified, Cold Process Extract
Whole Food, Plant Derived Formula
Full-Spectrum, Mixed Tocopherols (d-alpha, d-beta, d-delta, and d-gamma) and Tocotrienols
Contains:
4 Unesterified Plant Derived Tocopherols
d-alpha
d-beta
d-delta
d-gamma with Tocotrienols
Directions: Take 1 to 3 softgels daily with food or as directed by a qualified health professional.