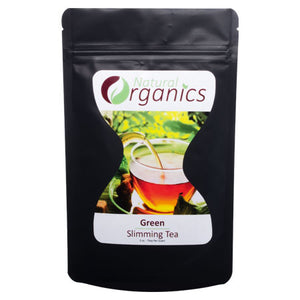 Green Slimming Tea
Regular price $39.99 $24.99 Sale
This organic green leaf tea is a delicate, stimulating beverage made from the season's fresh harvest of the first young leaves. These handpicked tea leaves from the high mountaintops of Japan are immediately steamed to retain their peak flavor and vibrant, brilliant, green color.
Extensive research confirms the high antioxidant and polyphenol activity found in green tea, and it comes highly recommended as a general cleansing beverage.
These antioxidants can help block the oxidation of LDL (bad) cholesterol, increase HDL (good) cholesterol and improve artery function. A Chinese study published recently in the Archives of Internal Medicine showed a 46%-65% reduction in hypertension risk in regular consumers of green tea, compared to non-consumers of tea.
In a recent 12-week study, participants who combined a daily habit of 4-5 cups of green tea each day with a 25-minute sweat session lost an average of two more pounds than the non tea-drinking exercisers.
The compounds, catechins, found in green tea are belly-fat crusaders that blast adipose tissue by triggering the release of fat from fat cells (particularly in the belly), and then speeding up the liver's capacity for turning that fat into energy.
Before a workout, turbocharge the fat-blasting effects by sipping a cup of green tea.
These catechins are more powerful than vitamins C and E in halting oxidative damage to cells and appear to have other disease-fighting properties. Studies have found an association between consuming green tea and a reduced risk for several cancers, including, skin, breast, lung, colon, esophageal, and bladder.
With all these health and fat blasting benefits, it's no wonder that Green Tea is a pillar in the Weight Loss Cure & hcg Diet programs.
Drink 1 cup of tea per day.
Use 1 Tbsp tea leaves per quart of water.
Place 1 Tbsp tea leaves in infuser and put in bottom of pitcher. Heat 1 quart of fresh, cold water to a pre-boil or 180-190 degrees. Pour hot water into pitcher and allow steeping for 4-6 minutes or to desired strength. Remove infuser and enjoy.