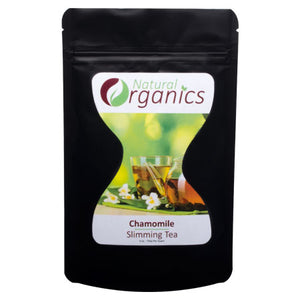 Chamomile Slimming Tea
Regular price $39.99 $24.99 Sale
Camomile tea is truly a powerhouse tea, with the amazingly wide range of health benefits it provides. Not only will this tea nurture your physical health, but it will support you emotionally and can even provide topical and cosmetic benefits as well!
For centuries, people around the world have turned to chamomile herbal tea as a cure-all for a multitude of physical and emotional health concerns.
Now, thanks to scientific research about chamomile tea benefits, we are coming to appreciate this popular tea in a whole new way.
Improves sleep patterns
Reduces anxiety & stress
Boosts the immune system
Fights inflammation
Soothes & heals skin & scalp
The two biggest obstacles to losing weight are lack of sleep and stress. This is why Chamomile Tea is a pillar in the Weight Loss Cure & hcg Diet plans.
Drink 1 cup of tea per day.
Use 1 Tbsp tea leaves per quart of water.
Place 1 Tbsp tea leaves in infuser and put in bottom of pitcher. Heat 1 quart of fresh, cold water to a pre-boil or 180-190 degrees. Pour hot water into pitcher and allow steeping for 4-6 minutes or to desired strength. Remove infuser and enjoy.