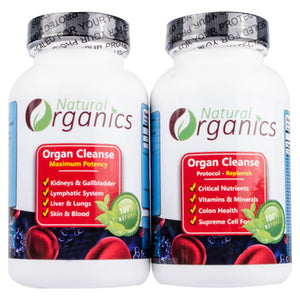 Organ Cleanse
Regular price $99.99 $79.99 Sale
Organ Cleanse
Potent whole herbs assist with the body's natural detoxification processes and provide comprehensive support for the liver, lungs, lymphatic system, kidneys, skin and blood.
The ingredients in the Organ Cleanse support the 7 channels of elimination. They are the organs and organ systems designed to filter and eliminate toxins from the body.
Liver: Milk thistle, dandelion root, garlic bulb, blessed thistle leaf, fenugreek seed, turmeric root, yellow dock root
Lungs: Mullein, garlic
Lymphatic system: Echinacea

 

angustifolia

 

herb
Kidneys: Dandelion leaf, nettle leaf, parsley leaf
Skin: Yellow dock root, burdock root
Blood: Kelp
Bowel: Rhubarb root, marshmallow root, slippery elm, oat bran, flaxseed, acacia fiber, fennel seed
*Organ Detos is a proprietary blend containing:Burdock Root (organic); Dandelion Root (organic); Garlic Bulb (organic); Milk Thistle Seed (organic); Dandelion Leaf (organic); Blessed Thistle Leaf (organic); Echinacea Angustifolia Herb (organic); Fenugreek Seed (organic); Kelp (organic); Mullein Leaf (organic); Nettle Leaf (organic); Oat straw (organic); Oregano Leaf (organic); Parsley Leaf (organic); Turmeric Root (organic); Yellow Dock Root (organic)
Directions For Detox:Take 2 capsules in the morning on an empty stomach.
Directions For Replenish: Take 1 tablet 3 times daily with food or as directed by a qualified health professional.