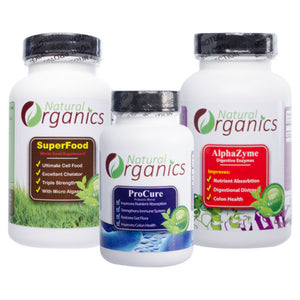 Colon Health - Auto-Ship Package
Regular price $149.99 $124.99 Sale
Colon Health - Auto Ship Package
Save Time & Money - Join the Colon Health Auto-Ship Program
Receive your favorite supplements every month BEFORE you run out – Hassle Free!
This Super Deal is for Monthly Auto-Ship members only.
To Sign-Up for the Monthly Auto-Ship Program, you must first log in to your account or create an account if you don't have one. Don't skip this step!
Then come back here, add the package to cart and follow the instructions to checkout.
The additional 20% Auto-Ship Discount will be reflected in your shopping cart.
---
Why a Colon Health Package?
As more and more diseases are being linked to an unhealthy gut, scientists are now saying that 80% of your immune system is located in your digestive system, making a healthy gut a major focal point to maintain optimal health. A robust immune system is your number one defense system against ALL disease.
This package was designed with that thought in mind:
SuperFood - Whole Food Supplement:

 

When your body receives all the nutrients it needs, it is able to thrive and flourish. And a healthy body is protected from disease. Disease is only able to invade when your cells are depleted and your body is weak. The potency of a supplement has much more to do with synergy than with actual nutrient levels. It is a combined effect of all the parts of the food, rather than the chemical effect of a single part, that is most important. Only a whole food supplement can give your body the nutrients it needs to heal and grow.

AlphaZyme - Digestive Enzymes:

 

Our bodies were designed to eat enzyme rich foods, fully chewed by

 

enzyme rich

 

saliva to completely break down and digest our foods. And undigested food provides a vast breeding ground for all kinds of parasites and harmful bacteria. Assuming you're not eating a mostly raw, thoroughly chewed diet, regular supplementation with digestive enzymes is an absolute necessity to keep your colon clean & protected.

ProCure - Probiotics:

 

Probiotics, along with a host of other microorganisms, are so vital to your health that scientists have compared them to "a newly recognized organ". Remember, an estimated 80 percent of your immune system is located in your gut, which is just one more reason why "tending to" your gut microflora is an essential element of good health.
A robust immune system, supported by your flourishing inner ecosystem, is your number one defense against ALL disease, from the common cold to cancer.
Please check the Natural Supplements category page for more information on each individual supplement.
See individual product pages.
See individual product pages.